We are delighted to be reinstating our late opening on Fridays! From 10th July you will be able to shop with us on Fridays until 7pm. We look forward to seeing you!
IMPORTANT HAT FITTING NEWS...
From 11th June we will be hat fitting again. The following strict procedures will be in place...WE will be wearing gloves, a face mask and a visor and will take YOUR temperature with a laser thermometer before we proceed. YOU MUST phone us to make an appointment... YOU MUST wear a mask - either bring one with you or buy one from us...YOU MUST be honest and cancel if you are showing any virus symptoms or know someone who is. Thank you. Lins x
PROCEDURES IN PLACE FOR CUSTOMERS...
We are allowing a limited number of customers into our shop as long as certain guidelines are followed to keep both customers and staff safe.
Please make your way to the gate in front of our main entrance doors and a member of staff will sanitise your hands and advise you of our new procedures. Lins x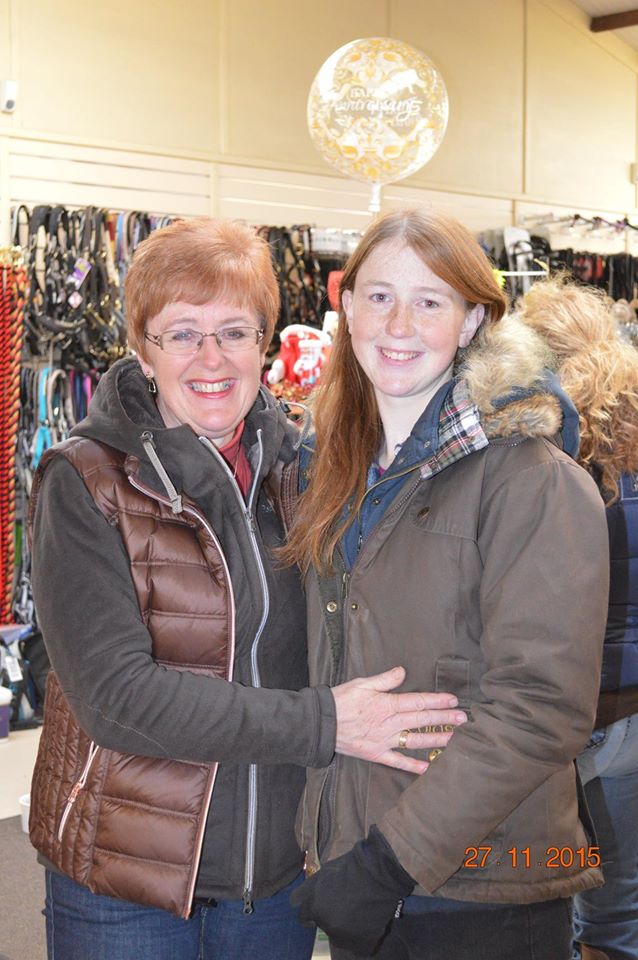 Welcome to Riseholme Feeds Country Store! This is me, Lindsay Redfern, with my daughter Tara (aka Tiggy) who works alongside me in our Country Store in Wysall. My well established and very experienced team are detailed below - you may recognise some of them - and we all look forward to meeting you in the near future.
Riseholme Feeds History...When you look at our animal feeds & country store in Wysall, well situated on the Leicestershire and Nottinghamshire borders, with a spacious clothes and accessories shop, feed barn and plenty of parking, it's hard to imagine that it started in a rather modest shed twenty six years ago!
Who would have thought that from selling just a few bags of horse feed all those years ago, we celebrated our sixth year in Wysall at the end of November 2019 . Not only that, we have put on two successful Fashion Shows, three very well supported Fun Dog Shows and two Tractor Ted Roadshows, all in aid of some very worthwhile charities. Times have changed and we now have a large selection of Lifestyle & Equestrian Clothing collections for ladies and men, equestrian wear and toys for children , as well as a quality range of Gifts and cards. We are still passionate about riding safety, offering a large range of riding hats, skull caps and body protectors which are expertly fitted by our trained members of staff.
Of course we continue to offer our normal comprehensive range of feeds for horses, all farm animals, poultry and game, as well as feed for all kinds of pets and wild birds. We are also now delighted to be part of the Bridleway Equestrian, a select group of independent retailers who have chosen an exclusive collection of equestrian products at excellent value and great quality, giving our customers even greater choice.
We offer a full range of complementary products to support our Equestrian and Farm Feeds such as electric fencing, wormers, boots, riding hats, horse rugs and dog beds, along with rubber matting for your stables, a large choice of bedding, different sizes of wheelbarrows, stable tools and ancillary equipment.
We are also proud to support Local Producers enabling us to offer a great choice of locally produced goods including cakes, potatoes (in season), free range eggs, jams and honey. We are also pleased to offer all of our customers the opportunity to sign up to our Loyalty Card Scheme which has been a great success, so please ask a member of staff for more details so you can enjoy the benefits too!
We all look forward to meeting you and will do our very best to ensure a warm welcome, along with friendly, specialist advice across all of our product ranges, awaits .
Lindsay
Let Me Introduce My Team....
Many Years of Experience, Excellent Produce Knowledge, Ready to Answer Your Questions!